Where did I leave off? Staring at my last blog on the computer screen right now, I see it was February 15th. Forty-nine days ago, and the eBook is still not where I would like it to be! Almost, but not quite. It became so frustrating that I had to change eBook publishers and this one is better, but there have still been many issues perhaps because the original file was done in an InDesign file format for the print book to make it attractive to the eye and because it includes photos and graphics and InDesign does not readily convert to mobi–which is what you need for Kindle devices. The epub file needed for Apple devices, like iBooks, also had conversion problems from the original InDesign file. There have been entirely too many files to count!
Last night I carefully studied the new file I had just been sent on Kindle previewer in KDP (Amazon Direct Kindle Publishing) in font size 4 (it goes 1-9). I read the whole book through. Even though I know the book so well, it took hours to do the examination. I prayed that my eyes would be copyeditors' eyes, instead of the ordinary eyes I possess. I found only a few things (4 exactly) that can easily be fixed. Big, big, sigh of relief! We just might make the deadline, which for a publication date of April 17th must be April 13th on KDP.
I receive Nathan Bransford's blogs in my inbox. He's been very good lately with his media tips for getting the word out about your books as well as his concentration for author writing tips.  There's tip-meat there to chew on if you are an organized person, and if you're not, if you make yourself be organized with what he calls "extreme calendering" (his spelling.) He said he would probably have a future blog about this in more detail. I was already doing his suggestion. Yay! How? By writing down every single thing I do for my book Jewels That Speak: Tiffanys, Freuds, and Me, its date and its time in a calendar notebook. I head to my study about 5:30 am, sometimes 6:30 am, and stay there working for hours until I notice a slump in energy and know it is time for some food sustenance. Following Nathan Bransford's tip of last night, I have my computer on full-screen mode, my phone is put away, and I have a sticky note on the top right of my screen that blocks out any incoming emails from floating across my screen. (Next step is doing the blocking on the computer itself. Oh dear!). Concentration seems to be working though! Yay again! Thanks, Nathan!
Now, for something beautiful, peaceful, and relaxing about spring that I love.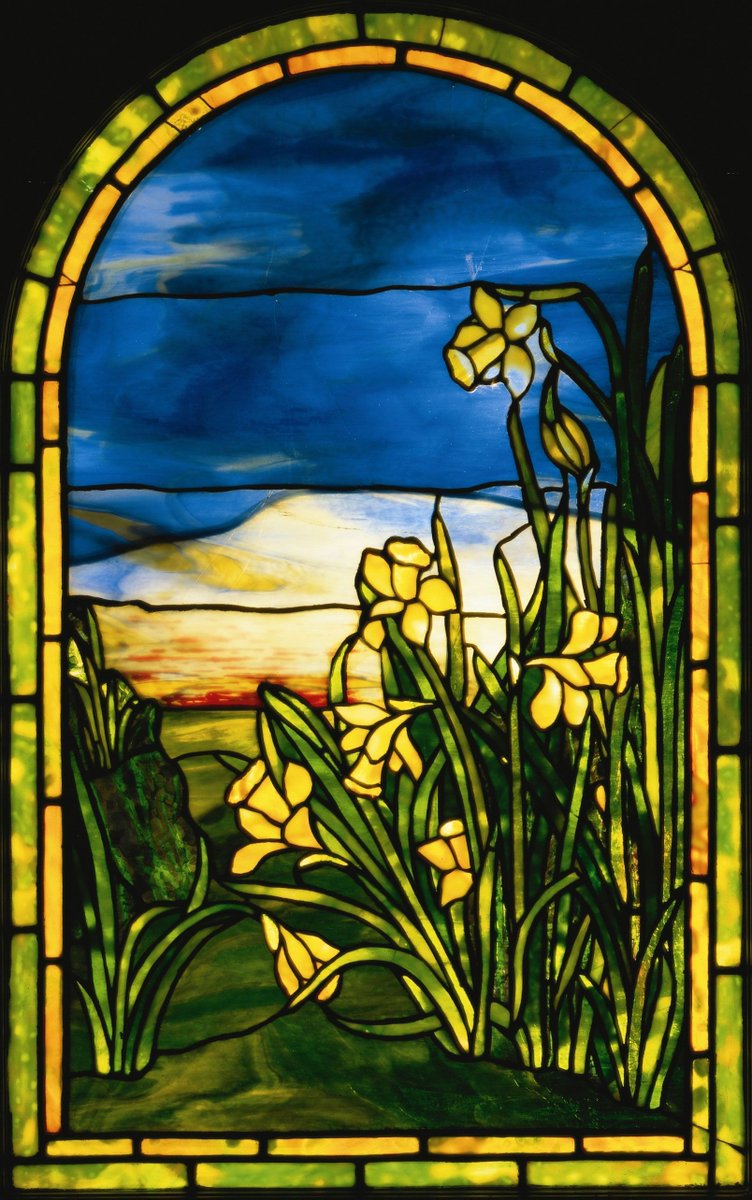 Spring flowering daffodils are symbols of rebirth and often called Lent lilies. This leaded-glass window, c. 1916, from the Morse collection is by Tiffany Studios.